GAMING CREATOR CONNECTION
Whether you're currently working in the industry or aspiring to do so, here's an opportunity for game developers!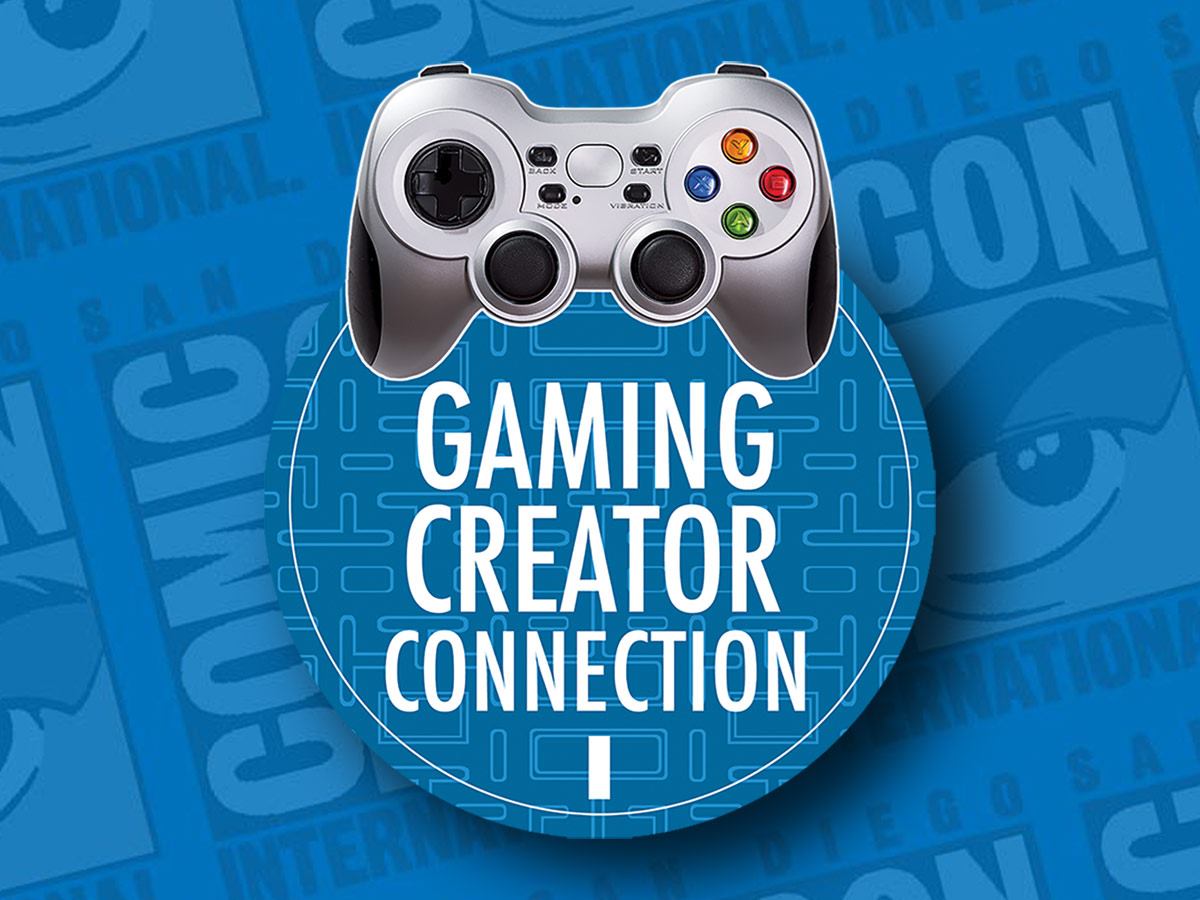 Returning this year, Comic-Con International is featuring the Gaming Creator Connection, an opportunity for game developers — whether currently working in the industry or aspiring to do so — to receive valuable advice, insights, and mentoring from seasoned veterans of the game industry representing diverse professional backgrounds.
The Gaming Creator Connection is organized and run by a professional game creator with 25+ years of experience, along with the participation of seasoned veterans from across the game industry. The GCC is a perfect opportunity to seek expert guidance in one of three core areas:
Art/Design: Artists of all kinds (general, character, environment, UI, etc.)
Narrative: Writers, narrative designers, editors, world builders, etc.
Business: A range of topics pertaining to indie start-ups, funding, marketing, pitching skills, etc.
Participants will have around 15-20 minutes to speak with a mentor and will be able to rotate between mentors in their field of interest in order to maximize the amount of feedback.
The Details
Where:
Marina D, Marriott Marquis & Marina (See your Comic-Con quick guide for a helpful map)
When:
Saturday, July 23
Time:
1:00pm – 3:00pm
How to Participate
Applications are now open for individuals who would like to participate in the GCC. Please email the following information to programs@comic-con.org for a chance to participate.
First and last name
Email address
Primary field of interest* (pick one): Art/Design, Writing, Business
Are you currently a student? Yes/No
Are you currently working in the game industry in any capacity? Yes/No
Primary mentoring goal; i.e. what specifically do you hope to learn from the mentors?
*While we will likely have professionals with background in other areas beyond these three (e.g., programming, localization, etc.), we can't guarantee their availability.
GAME PITCH REVIEW
Also returning this year is the Game Pitch Review. This pitch review will be conducted by a panel of professional game developers who will offer their invaluable advice and insight to those seeking to further their dreams of making their game a reality. Participants will have the opportunity to pitch a game for three to five minutes and then receive constructive criticism on the concept and your pitch. This session will be seated on a first-come, first-served basis and sign-ups will be taken on site for the 6 pitch slots.
To participate in the Game Pitch Review, you must be prepared before you sign up. Those not prepared will forfeit their pitch session. Preparation includes:
A well-practiced, 3-5 minute verbal pitch that clearly explains the game concept, how it's unique to the marketplace, why it would be worth funding, etc.
Any hardcopy or digital visuals (images, video, etc.) that help illustrate the concept and viability of the idea (you must bring the device on which you will display the visuals).
Be imaginative in your pitch and be passionate; imagine you're making a very quick pitch to receive funding for your idea.
The Game Pitch Review will take place on Saturday, July 20 from 11:00am to 12:00pm in Marina D at the Marriott Marquis & Marina. Sign-ups will begin at 10:00am.