Open Registration
Last-Minute Prep: Mastering the Art of Pre-Sale Readiness
Discover the essential last-minute tech tips and preparations to ensure a smooth registration session. Gain confidence for the upcoming Open Registration on November 18!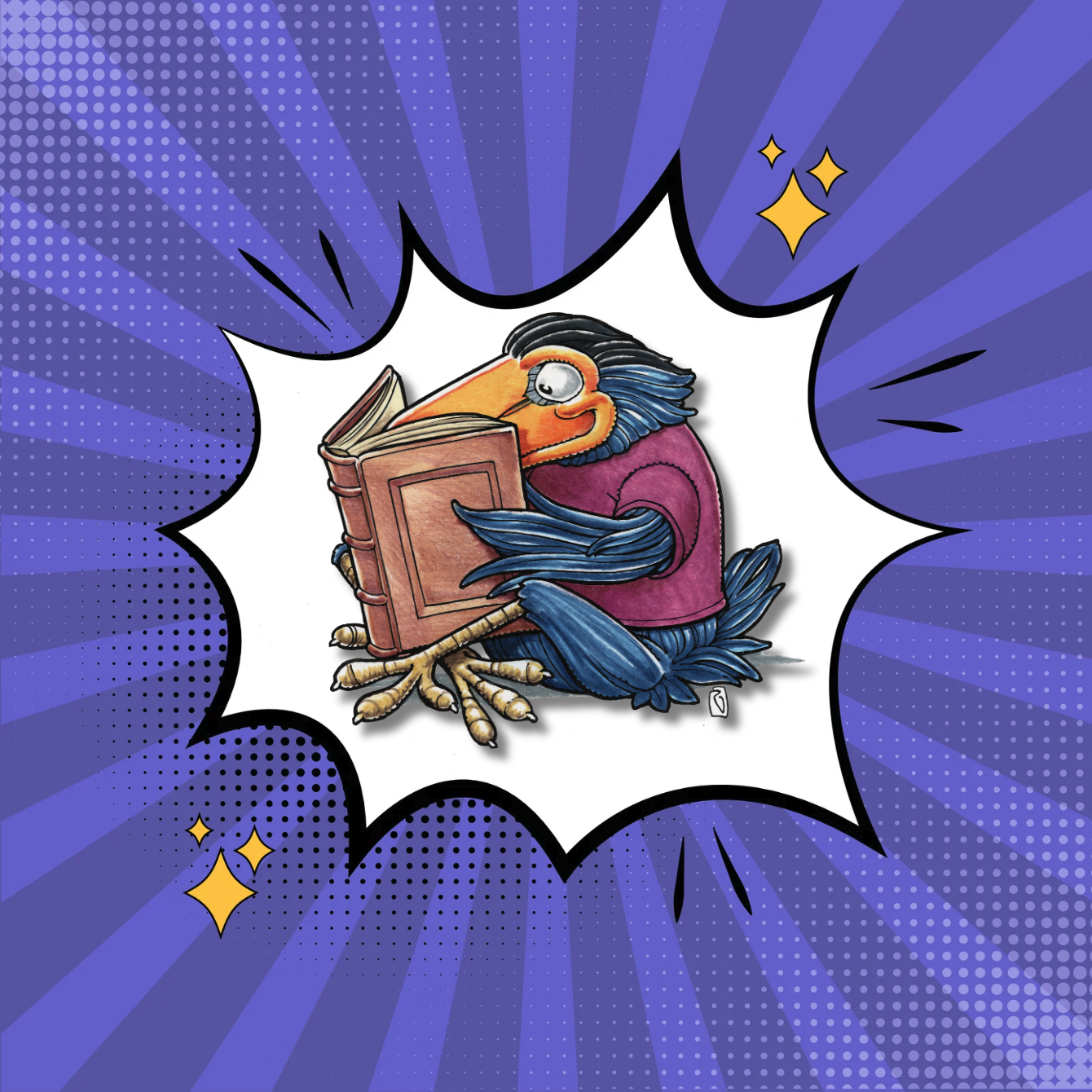 Rise and shine! This Saturday, November 18, marks the commencement of Comic-Con 2024 Open Registration. Set your alarms, prep your passwords, and dive into these last-minute tech tips to ensure a seamless experience. The waiting room opens at 8:00 AM Pacific Standard time (PST), with badge sales kicking off shortly after 9:00 AM PST. Brace yourselves for an exhilarating ride—we can't wait to welcome you!
---
Password Check
Ensure a smooth entry into Open Registration by verifying your password ahead of time. You'll need to log in if you get the opportunity to purchase badges! If it's been a while since you logged in to your Comic-Con Member ID account you might need to update it. Even if you've recently logged in, a quick double-check can prevent any speed bumps on sale day.

---
For visual guidance in saving your card information, follow the steps below:
Imagine the clock ticking down on your registration session, badges in your cart, and you fumbling for credit card details. Avoid the drama by updating and saving your credit card information in your Member ID account a few days before November 18. Maximize your 15 minutes for crucial decisions—like snagging that elusive Wednesday Preview Night badge or ensuring you've got the right badges for your mom.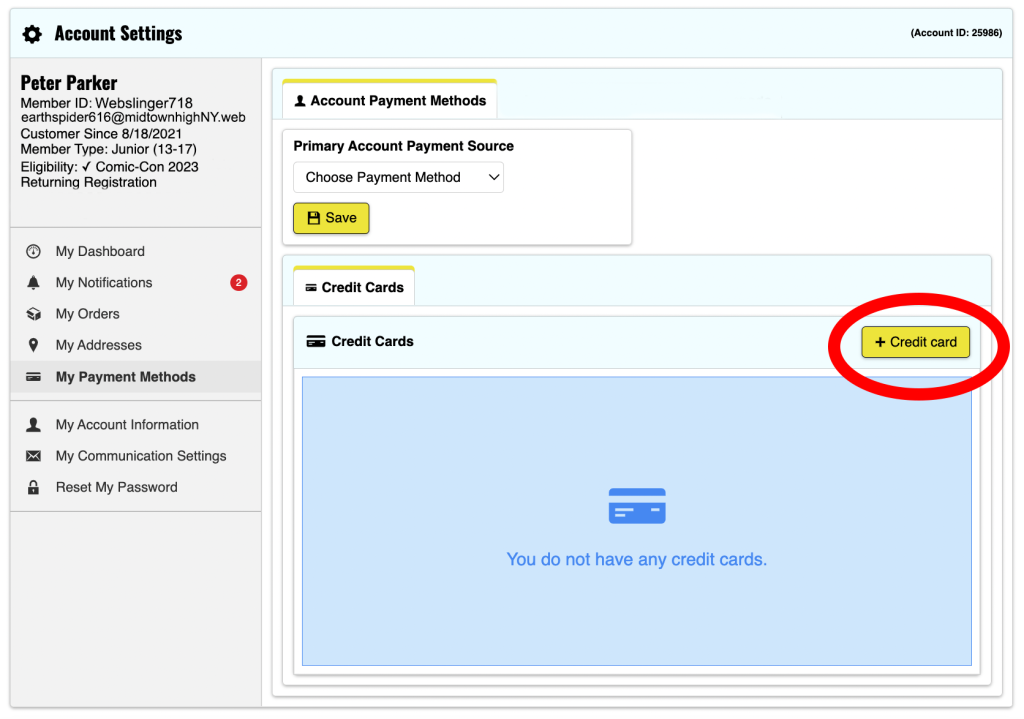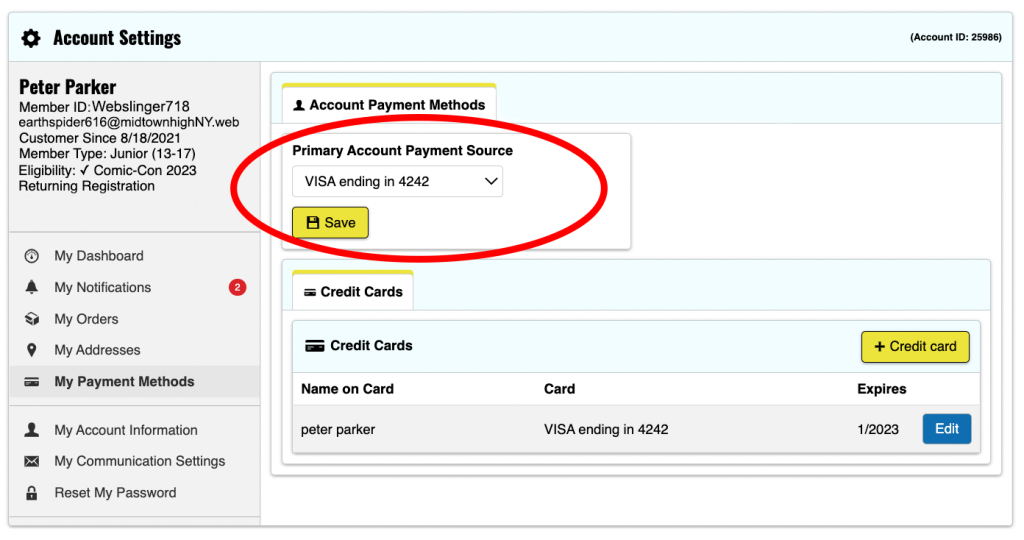 ---
email check
If you're able to purchase badges during Open Registration, an order acknowledgement email will be sent to the email address associated with your Member ID account. Log in to your Member ID account before November 18 and check the email listed under your name in the upper left corner of the Account Dashboard. If your email needs an update, go to "My Account Information" and make the necessary changes so your order acknowledgement email can be sent to the right place!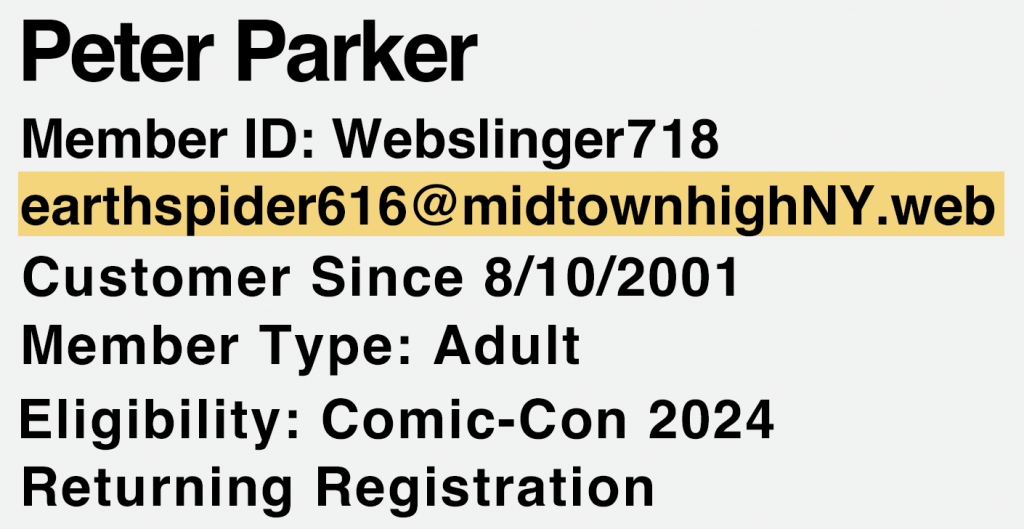 ---
WAITING ROOM EXPECTATIONS
On November 18, the virtual waiting room opens at 8:00 AM PST. Simply arrive at the Member ID Portal between 8:00 AM and 9:00 AM PST to enter the waiting room—no additional steps required. If you're already logged in before the waiting room opens, click "Open Registration" in the top menu bar after 8:00 AM PST. Entry doesn't guarantee a session, and not all members will be selected.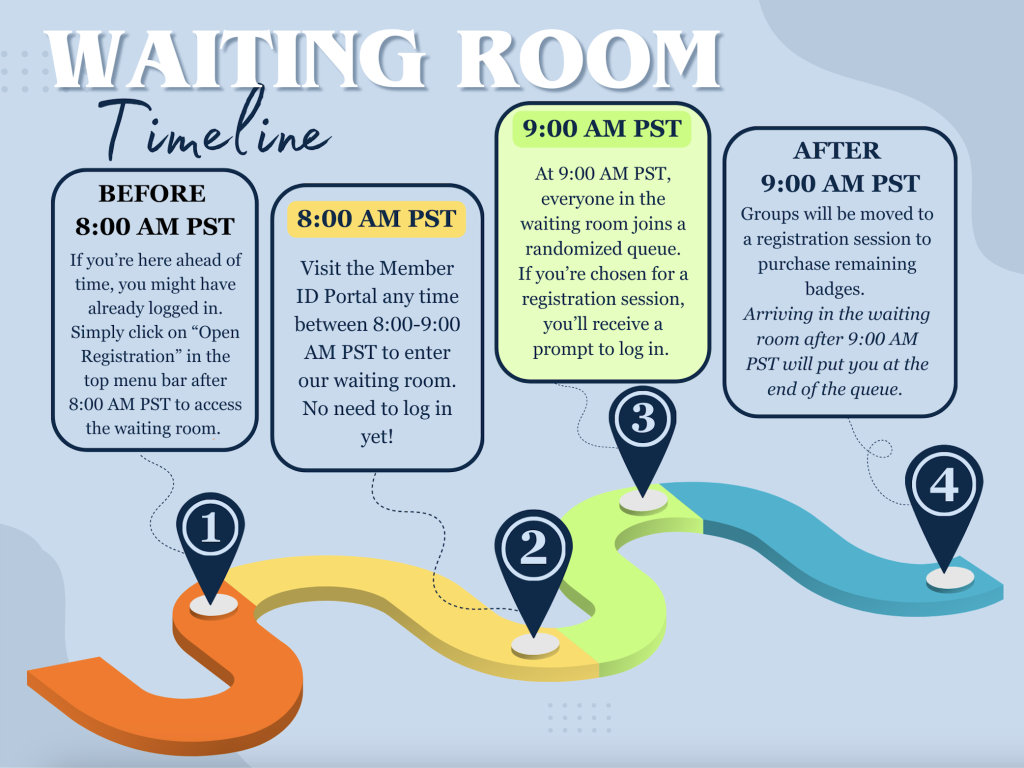 ---
Certified Browsers
The Queue-it waiting room and badge registration system have undergone rigorous testing across a range of web browsers.

For optimal performance, please ensure that your browser is updated to the latest version by November 18.
The following browsers have been extensively tested and are recommended for the best results:
Firefox: Latest Version
Google Chrome: Latest Version
Safari: Latest Version
Microsoft Edge: Latest Version
Please note that if you choose to use a browser that is not included in the list above, we cannot guarantee the same level of performance and reliability.
---
Status Messages
Stay informed with registration tips and real-time badge inventory updates with the waiting room's status messages. Plan for your 15-minute slot wisely if you secure a registration session. You can also follow real-time badge updates on our Twitter account.
Devices
For the smoothest experience, use your laptop or desktop; mobile devices, iPads, and tablets aren't supported. Ensure a hassle-free registration process by sticking to the recommended devices.

Our badge registration system is not formatted for mobile devices, iPads, or tablets. Comic-Con is unable to guarantee that the registration system will behave as expected using a mobile device. The user assumes responsibility for any issues arising from the use of untested devices.
DOn't press refresh
Resist the urge to refresh once you've made it to the waiting room! The waiting room auto-refreshes every 30 seconds for up-to-date information. Avoid technical difficulties by letting the system handle the refreshes.
power saving settings
Keep your screen awake in the waiting room. Check your computer's power saving settings beforehand, and if your screen falls asleep, don't panic. Return to the Member ID Portal and you'll be placed back in line exactly where you were previously.
javascript and cookies
Most modern web browsers usually have these features turned on by default in your settings. As a precaution, we highly suggest double-checking to make sure they're indeed activated.
Fair Play Reminder
DON'T CHEAT THE SYSTEM
Please refrain from attempting to cheat the system. Sharing waiting room information or URLs may lead to removal from the registration queue and cancellation of associated transactions. Dishonest practices, whether during registration or resale, can result in cancellation of all badges in the order, including yours.
---
Voluntary Information:
Update Birth Year
While not mandatory, sharing your birth year under "My Account Information" could help us enhance your Comic-Con experience. As a non-profit organization, this valuable input often leads to grants, exciting panel guests, new opportunities, and an overall improved event tailored to our attendees.
---
Stay on top of all exciting announcements by following us on Instagram, Facebook, X, and Toucan – the official blog of Comic-Con and WonderCon.