Open Registration
Purchasing for Friends at Open Registration
Once the badges are purchased for you and your friends, the clock starts ticking down to that epic group cosplay! So gather your friends, make sure you have their information, and get ready for Open Registration!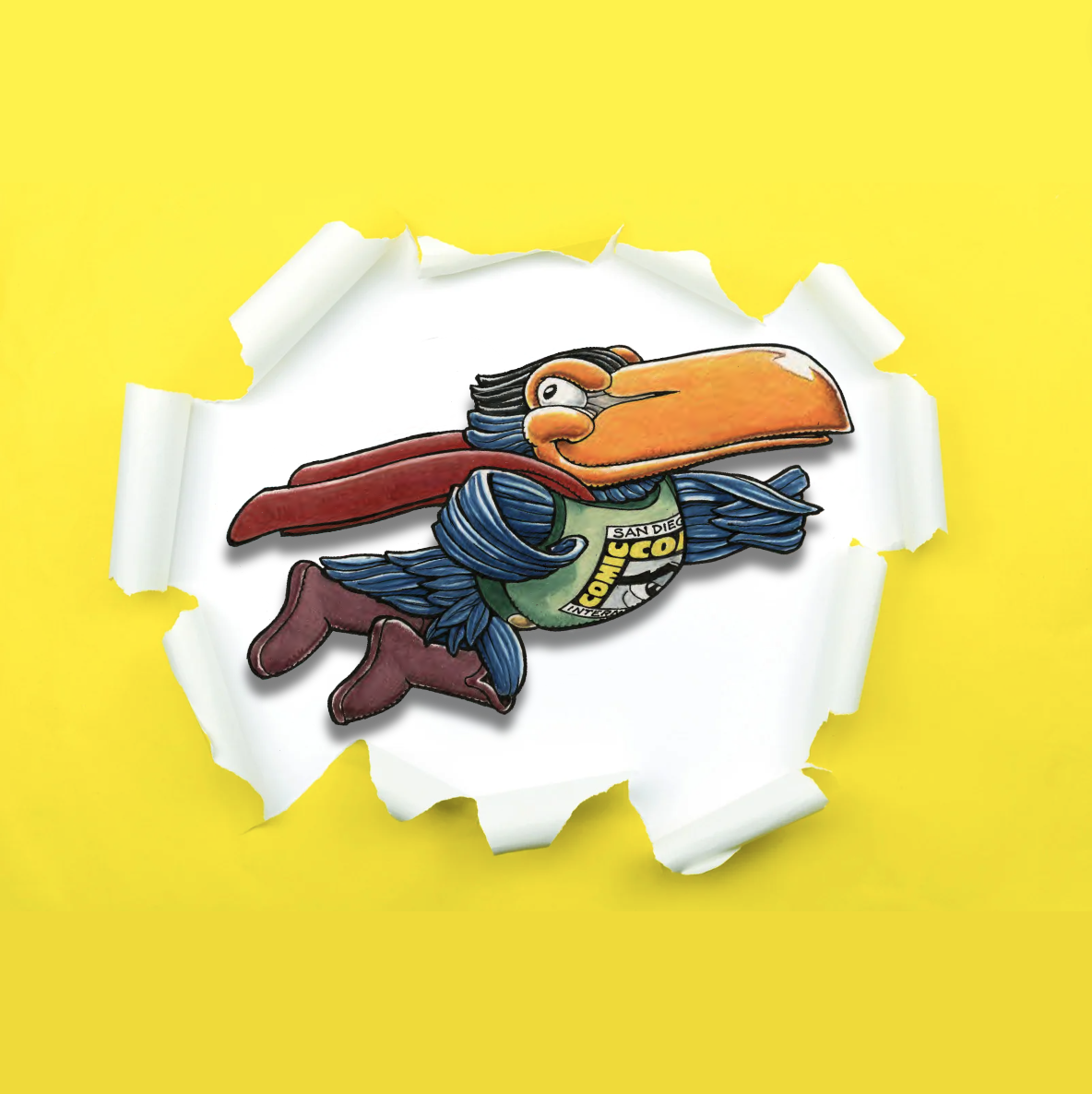 ---
We know you're excited about buying badges for your friends during Open Registration. However, before you eagerly arrive at our Member ID Portal on the day of the badge sale, take a moment to go through our instructions and tips for a seamless experience! If you're selected for a registration session, you'll have the chance to purchase badges for up to three people, including or excluding yourself, while supplies last.
Here are two important considerations when buying for others:
All individuals you plan to purchase badges for must have valid Comic-Con Member IDs before Open Registration.
If you purchase badges for yourself, you can purchase badges for two additional people. If you don't purchase badges for yourself, you can purchase badges for three other people.
---
How do I purchase badges for friends and family?
Before the sale, collect the Member ID and last name for each person you're buying for.
If you're randomly selected for a registration session, click on "Register Another Member ID" to enter their Member ID and last name. Include any special characters, if applicable, when entering their last name to successfully locate your friend's account, especially if they have a suffix, hyphen, space, or accent mark in their last name.
If their Member ID and last name match an account, their name will appear in a green box under "Results" (see image). Select the desired badges from the available inventory and add them to your cart.
Repeat the process for each person you're buying badges for.
Once everyone is added, proceed to checkout. You can edit badge selections but not registrants beyond this point.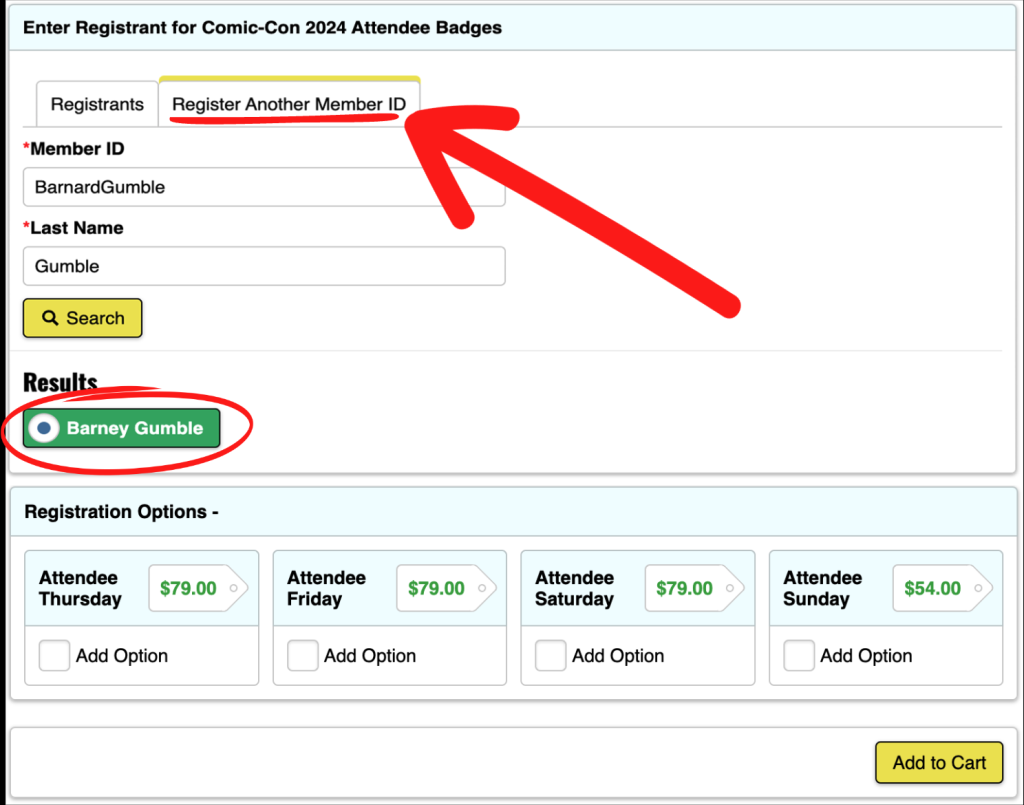 It's important to note that there are significantly more eligible attendees than available badges. The demand is high, and the supply is limited. Entry into the waiting room does not guarantee you a badge or registration session. Be prepared for the possibility of not obtaining a badge during Open Registration.
---
Badge Buying Groups
Are they Worth it?
Are you ready for another thrilling year at Comic-Con? As the Open Registration sale approaches, we know badge-buying groups are a common strategy. However, caution is key when diving into this world.
Well-Organized Groups Make the Difference
While Comic-Con is all about fun with friends, it's crucial to choose a well-organized buying group with effective communication. Over the years, disorganized or untrustworthy groups have left many empty-handed. Make sure your group is reliable.
Maximize Your Purchase Potential
During registration, many attendees are selected simultaneously. Avoid disappointment by coordinating with your group to ensure you don't accidentally purchase the same badges for someone. Once you reach the "Process Order" page, changes to registrants can't be made, and missed opportunities are frustrating.
Trust is Essential
Trust within your buying group is paramount. Only one payment method can be used per badge order, and it is not Comic-Con's responsibility to make sure participants in buying groups pay the buyer for any badges purchased for them. Additionally, each member should operate independently in the waiting room, and sharing information or URLs is strictly prohibited. Attempting to sell or scalp badges can lead to the cancellation of all badges in the order, including yours.
In summary, make smart choices when considering a buying group.
Opt for a well-organized, trustworthy group that can coordinate effectively in an effort to secure Comic-Con badges.
---
YOU SECURED A BADGE FOR YOURSELF AND A FRIEND!
What else do you need to know?
First and foremost, let's give a big round of applause to you and your friend! We're already looking forward to your visit next July. Now, let's get down to the specifics.
Order Acknowledgement Emails

As soon as you successfully purchase a badge during Open Registration, you will receive an order acknowledgment email. This email is your confirmation that you've secured your spot at the event.
Be sure to keep a close eye on your inbox. Sometimes these emails may land in your spam folder, so don't forget to check there too, just in case.

Payment Processing

Payments for the badges will begin processing immediately once the Open Registration sale ends and could take up to 72 hours.
The buyer will be notified via email whether the payment for their order was successful or if it was declined. Rest assured, if your payment was declined, you will have the opportunity to resubmit payment.

Badge Confirmation Emails

As the event date draws nearer, we will send out badge confirmation emails to all registered attendees. These emails will contain important event information, including hours, venue maps, and more.
Once badge confirmations are available, you will have the ability to resend yourself a copy of your badge confirmation from the "My Orders" section of your Member ID account.
---