Comic-Con 2024 Open Registration
The Basics +
Date Announcement
Learn about Comic-Con 2024's biggest and final badge sale — read on for date, time, and details.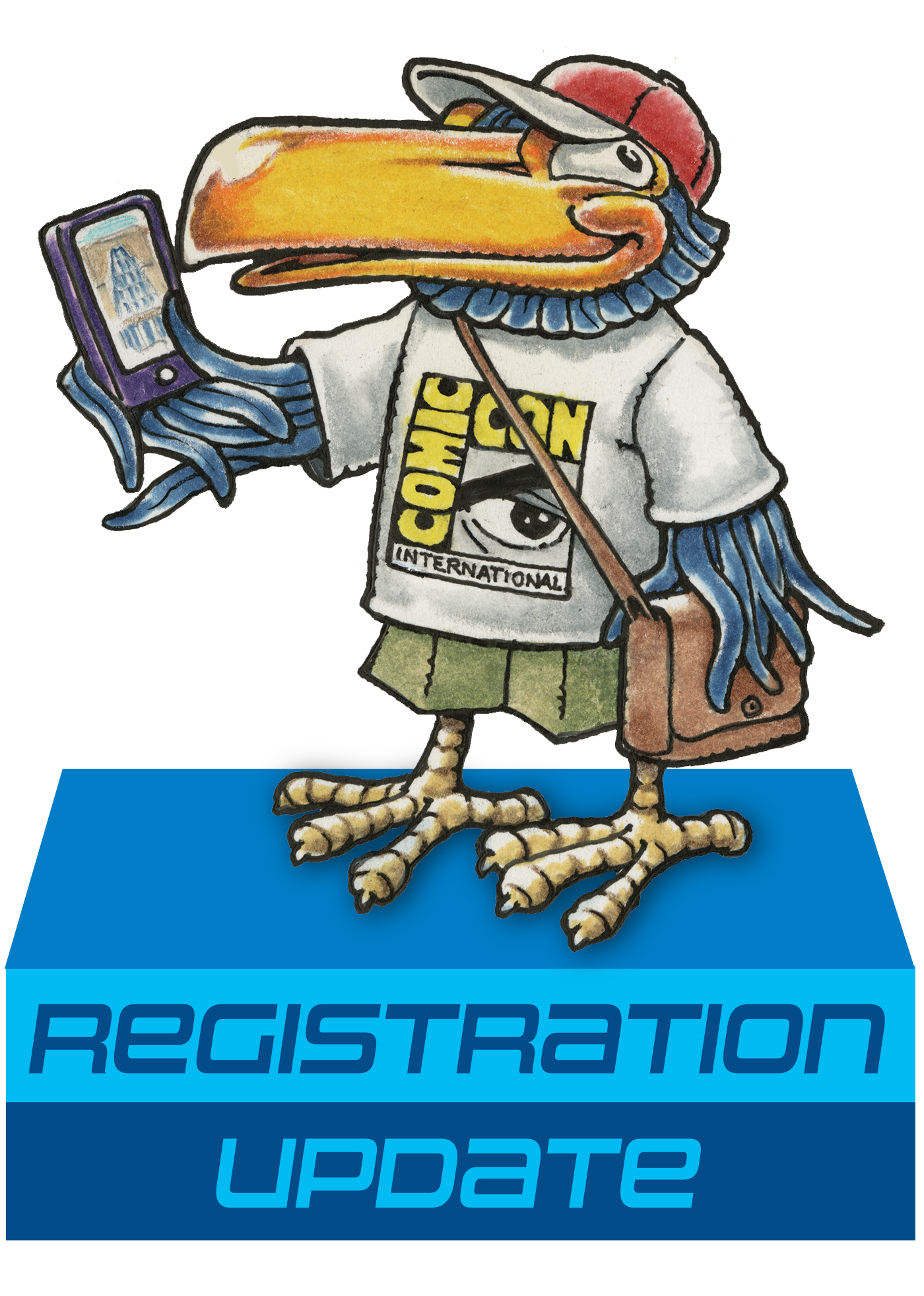 ⋆ Save the date ⋆
Get ready for an exciting journey into the world of comics and popular arts as we gear up for Comic-Con 2024 Open Registration, launching on November 18, 2023 – a date you can't afford to miss!
At the crack of dawn, 8:00 AM Pacific Daylight Time (PST), the waiting room will swing open its doors. Just an hour later, at 9:00 AM PDT, the sale will commence, and everyone in the waiting room will be sorted into a randomized queue. From there, participants will gradually be moved into registration sessions where they will have 15 minutes to complete their badge purchase. If you're new to the Comic-Con universe, it's a great idea to create your Comic-Con Member ID well in advance.
---
2024 Open Registration
FAQs
WHAT do I need for Open Registration?

To get ready for Open Registration, make sure you have your trusty Comic-Con Member ID. If you don't already have a Member ID, we strongly recommend creating one well before November 18.

If you're an existing member, double-check that your account details are up-to-date, including your name, password, and saved payment info. Decide on the days you want to attend, whether it's all four days plus Preview Night or just specific days, and what your plan will be if you're selected for a registration session after some days have already sold out. If your payment method isn't saved on your Member ID account, you'll need your credit/debit card with you during the sale.

If you plan on purchasing badges for friends, you'll need their Member IDs and last names exactly how they're displayed in their accounts (special characters like periods, commas, tildes, etc. included).
WHO IS Eligible?

Comic-Con 2024 Open Registration is open to the general public! Anyone with a valid and confirmed Member ID can participate.

Anyone you wish to purchase badges for must also meet the same eligibility requirements.
WHO is NOT Eligible?

The following member types are not eligible for Open Registration and will have separate registration dates:

Professionals
Guests of professionals (paid or complimentary)
Exhibitors (and exhibitor-purchased attendee badges)
Retailers
Volunteers
Staff
Complimentary passes
Press
WHERE is Open Registration?

It will be held in the Member ID Portal where the Queue-it virtual waiting room will be enabled one hour before the sale begins. Please make sure you can access your account before the sale date!

If it's been a few years since you participated in one of our badge sales, you'll notice it looks a little different! It's now hosted by Configio, which offers an improved registration experience for our prospective attendees.
---
What are the BADGE PRICES?

Preview Night is not a stand-alone option—it may only be purchased if you buy a Thursday, Friday, Saturday, and Sunday badge.

If you purchase all four daily badges (Thursday through Sunday) they will be automatically converted to a 4-Day badge.

| BADGE TYPE | ADULT | JUNIOR / U.S. MILITARY / SENIOR* |
| --- | --- | --- |
| Wednesday Preview Night | $59.00 | $30.00 |
| Thursday | $79.00 | $40.00 |
| Friday | $79.00 | $40.00 |
| Saturday | $79.00 | $40.00 |
| Sunday | $54.00 | $27.00 |

All purchases are subject to a $15 handling fee per member.

*Children (12 and under) are free with a paying adult. Juniors (ages 13 -17) pay the reduced junior prices. Active-duty military with ID and seniors (ages 60 years and older) pay the reduced U.S. Military/Senior price. The Military/Senior pricing does not extend to military veterans and dependents.
How do CHILD Badges work?

Children ages 12 and under are free with a paid adult! We're proud to offer one of the most generous child badge policies in the industry. So bring your kiddos and start making memories at our next Comic-Con. Click here for more information on our Child Badge Policy.

Juniors must create their own unique Member ID account separate from their guardian or parent. They will need their own Member ID account to participate in the Open Registration sales. Review our Child Badge Policy to determine if your child will be considered a junior for Comic-Con 2024.
Can I buy badges for FRIENDS?

Yes! You can purchase badges for up to three people, including yourself. However, everyone you are purchasing for must also have a Member ID account. You'll need their Member ID and last name as it appears on their Member ID accounts (including special characters and punctuation, if applicable).

Keep an eye on our Toucan blog in the following week for information on how to purchase for friends or family.
Am I Guaranteed a Badge?

Participating in Open Registration does not guarantee you a badge, regardless of when you enter the waiting room. Due to high demand, there are more eligible attendees than there are available badges.

Entry to the waiting room does not guarantee you a badge or registration session. If you do get selected for a session, you can help make the process go more smoothly by reading all Open Registration information carefully ahead of time and by having your personal information ready on the day of the sale.
How can I stay up-to-date on new information?

Stay connected with us across all the major social media platforms: Instagram, Facebook, X (formerly Twitter), and Toucan – the official blog of Comic-Con and WonderCon. We'll be serving up a treasure trove of invaluable tips and information over the course of the next week.
Checklist time
That's a wrap for now! Stay tuned for more details on our upcoming badge sales, including tips on how to get ready. Here's a quick checklist to kickstart your prep before the day of sale:
❏ Create a Member ID account if you don't already have one
❏ Log in to your Member ID account (You can't participate if you can't log in!)
❏ Make sure your email address is current
❏ Opt in for our email communication
❏ Pre-save your payment information in your account
❏ EXTRA: Hoping your friends can join in the fun? Make sure they have Member ID accounts as well!
Your unwavering support has played a crucial role in shaping Comic-Con into the remarkable event it is today.
With 2024 approaching and excitement mounting, we eagerly anticipate welcoming you to our July event with open arms! 🎉