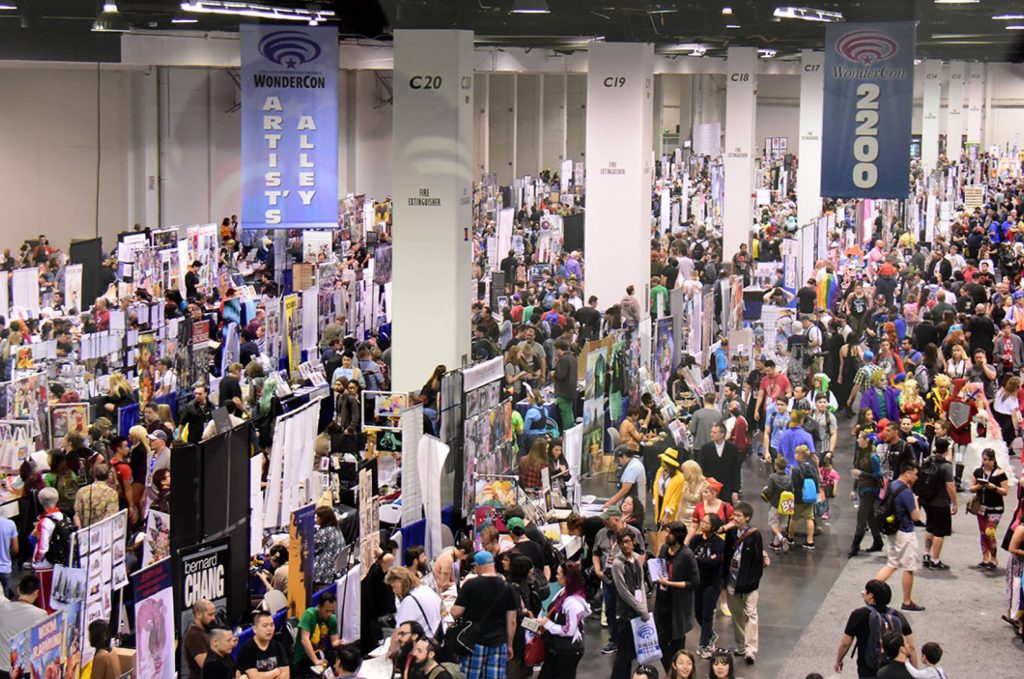 Getting Your Wondercon
Badge
From badge sales to planning ahead, get all the information you need about attending WonderCon.
Why Attend
Explore the Wonder at
Wondercon
Comic-Con International is proud to host WonderCon, one of the country's best comics and popular arts conventions.
Reasons to Attend:
Immerse yourself in popular arts
Express yourself in cosplay
Meet artists and creators
Attend engaging panel discussions
Join a passionate community
---
How to Attend
Getting Your
Badge
Securing your badge to attend WonderCon is your key to an extraordinary experience. Although badges aren't on sale just yet, we recommend registering in our Member ID Portal in preparation.
1. Register in Our Portal
Anyone who wishes to purchase a badge or register for WonderCon must have a valid and confirmed Comic-Con Member ID. All registration events take place in our Member ID Portal.
---
2. Buy Your Badge
If you are interested in attending WonderCon 2024, you will need to purchase a badge during our upcoming badge sale. See below for more details!
---
Where To Buy
Upcoming
Badge Sales
Early Bird Pricing
When WonderCon badge sales begin, our 3-Day badge for WonderCon will be available at a discounted rate! Take advantage while you can—our early bird pricing won't last long!
When: Opens Thursday, November 30, 2023
What: 3-Day badges only
Single-day badge options are not available during our early bird period.
Standard Pricing
Daily badge options for WonderCon will become available once our Early Bird period ends.
When: TBA
What: Single-day badges for Friday, Saturday, and Sunday
The 3-Day badge option will not be available after the early bird period. If you purchase all three single days, your badge will automatically be consolidated into a 3-Day badge when it is printed. This automatic consolidation is not eligible for the discounted price offered during the early bird period.
---
Cost
Wondercon 2024 Badge Prices
| BADGE TYPE | AVAILABILITY | ADULT | JUNIOR / U.S. MILITARY / SENIOR* |
| --- | --- | --- | --- |
| 3-Day – EARLY BIRD! | November 30, 2023 | $125.00 | $62.00 |
| Friday | Early 2024 | $47.00 | $24.00 |
| Saturday | Early 2024 | $57.00 | $29.00 |
| Sunday | Early 2024 | $40.00 | $20.00 |
All purchases are subject to a $15 handling fee per member.

*Children (12 and under) are free with a paying adult. Juniors (ages 13 -17) pay the reduced junior prices. Active-duty military with ID and seniors (ages 60 years and older) pay the reduced U.S. Military/Senior price. The Military/Senior pricing does not extend to military veterans and dependents.
---
Wondercon
Badge purchase faq
When do WonderCon badges go on sale?

Traditionally, WonderCon badges go on sale in the winter. Keep an eye on this page! To purchase a badge for WonderCon, you must have a valid and confirmed Comic-Con Member ID. Read our Member ID page for more information.

We strongly encourage you to follow us on Facebook, Twitter, Instagram, and Toucan – The official blog of Comic-Con and WonderCon – for badge sale date announcements.
How do I purchase a WonderCon badge?

Everyone who intends to purchase, apply, or register for a WonderCon badge must have a valid and confirmed Comic-Con Member ID. Click here to learn more about creating your Member ID.

If you already have a Comic-Con Member ID, simply log in to your account and select "Buy WonderCon Badges" from the top menu bar once badges are on sale.
Can I purchase a badge for my friend?

Yes! There is no limit to how many badges you can purchase for friends and family! To purchase a badge for others, you need the Member ID and last name of each person exactly as it appears on their Member ID account. If the last name includes special characters or a suffix, they must be included. If the suffix includes punctuation (such as commas, periods, and special characters), that must be included as well.

Each attendee is required to pick up their own badge. If you purchase a badge for a friend, you cannot pick up their badge for them.
Can I transfer my WonderCon badge?

Reselling, sharing, or transferring a WonderCon badge or complimentary pass is strictly prohibited. Badges are non-transferable.
---
Refunds, Lost Badges, and The Fine Print
Non-Transferable: Each WonderCon badge features a unique barcode registered to the badge holder. To prevent scalping, badges for WonderCon are non-transferable. WonderCon permits the purchase of a maximum of one badge type per person.
ID Requirement: Every badge holder will be required to present a valid photo ID when they arrive. Security checks will be performed to ensure that only the person listed on the badge is admitted to the event using that badge. The name on your badge must match your photo ID.
Refunds and Cancellations: The WonderCon 2024 badge refund deadline is February 20, 2024. To request a refund for your WonderCon 2024 badge purchase, please click here. All refunds are subject to a 10% processing fee. WonderCon badges are non-transferable and may not be exchanged. Any duplicate orders will be automatically canceled, less the 10% processing fee and the handling fee, at SDCC's sole discretion.
Refunds on Early Bird Purchases: We do not issue partial refunds for 3-Day badges purchased during our early bird period. If you no longer want to attend all three days, you must refund your entire 3-Day badge purchase, less the 10% processing fee. Then, once your 3-Day badge is refunded, you can purchase the single-day badge options at our standard rate while inventory is available.
Lost Badges: Please keep your badge safe and secure at all times. Lost badges may be replaced for a nominal fee at the Badge Solutions Desk in the Registration Area on-site.
Limited Capacity: All event and program rooms have a limited capacity as set by the fire marshal. Although your WonderCon badge is required to get into all events, it does not guarantee you access to any event if it has reached its capacity. We do not clear rooms between events. Most autograph signings are of a limited nature. Your WonderCon badge does not guarantee autographs at any event.
Data Protection: Data collected during registration is retained by Comic-Con to enable you to purchase badges for future Comic-Con events. Retained information will also be used to inform you of registration information related to your badge purchase and events run by Comic-Con. Check the "Email Communication" section of our Comic-Con Member ID page to learn how to customize your opt-in preferences.